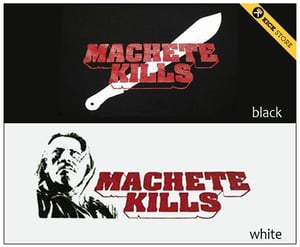 €

12.00 - On Sale
Stampa a 2 colori (solo fronte) su maglie Fruit of the Loom Valueweight 165 gr.
Disponibili in tutte le taglie (anche modello da donna).
Machete Kills è un film d'azione di "exploitation" del 2013 diretto da Robert Rodriguez, con protagonista Danny Trejo. È il terzo film ispirato al fake trailer di Grindhouse - A prova di morte; i primi due sono stati Machete e Hobo with a Shotgun.
Danny Trejo, Michelle Rodriguez, Tom Savini, Billy Blair, Electra, Elise Avellan, Felix Sabates e Jessica Alba interpretano i loro stessi ruoli dai film precedenti e si uniscono alla serie anche Mel Gibson, Demián Bichir, Amber Heard, Sofía Vergara, Lady Gaga, Antonio Banderas, Cuba Gooding Jr., Vanessa Hudgens, Alexa Vega, William Sadler, Marko Zaror, e Charlie Sheen. Il film è stato distribuito negli Stati Uniti l'11 ottobre 2013.
Il film inizia con un trailer di un'ipotetico film splatter-azione-fantascientifico: "Machete Kills Again...in the Space".
L'ex-agente Federale Machete Cortez (Danny Trejo), svolge un'operazione contro un cartello della droga, quando compaiono alcuni misteriosi individui che uccidono i narcotrafficanti; il loro capo, inoltre, uccide la collega di Machete, Sartana Rivera (Jessica Alba), dopo che questa scopre un misterioso missile nascosto in un camion dei narcotrafficanti....